A bit of history
In the 50s of the XX century, when the use of containers only spread, the creators of the equipment experimented with different sizes of containers. And until the 70s, when the process of active conversion of general-purpose vessels (GPV) into container ships (as well as the construction of new ones) was in progress, 10-foot containers were still in use. To date, they still remain in some regions of the world, but are mainly used for railway transport, or as cabins and other elements of mobile and modular construction. Companies and factories involved in the manufacture of containers have 10-feet in the nomenclature, but again, they do not create them for sea transportation.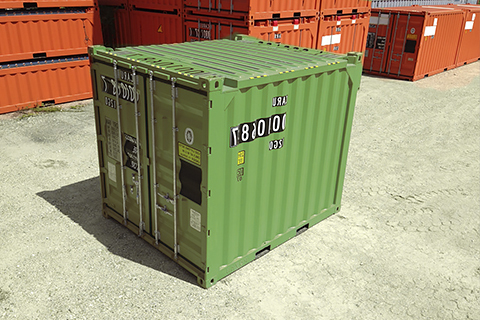 Today, no shipping line will take a physical 10-foot container on board if you need for example to send a relatively small shipment of cargo from China. The cost of transportation of such containers is almost as much as 20-feet, and the lion's share of modern handling equipment at terminals is simply not suitable for their processing. Nevertheless, if you look around - the demand of consignors for the transportation of small lots has not fallen, and lately has only grown, as the tendencies of modern world trade encourage. LCL-services are not always effective, because their rates are not the lowest, and the waiting time of each console can sometimes reach 2 months - this will not be waited by any shipper.

Shipping in 10-foot containers: modern service
We are pleased to introduce our new service using 10-foot containers.
This service will help you reduce the cost of transportation by 1,5 - 2 times comparing to a 20-foot container delivery. Service works all around the World. The main idea is simple and is that we divide the 20-foot container into two equal parts (two virtual 10-foot containers) and offer two Shippers to use the space for joint transportation.
MAIN ADVANTAGES:
Unlike groupage cargoes, you always know who your delivery companion is and what is his load. This is very important, as often, different loads have different masses, packaging and sizes. During a storm, one load can deform the other. For example, transportation of heavy machine tools and cartons.
Transportation in a virtual 10-foot container is almost 1.5-2 times cheaper than in a real 10-foot container. Yes, we were not mistaken! Why? Because the time for their processing and loading is the same as for standard containers. That's why real 10-foot containers are not widely used.
Savings on loading and discharging. The cost of forwarding in the port and local charges is divided into 2 equal parts.
Savings on a customs broker. The services of a customs broker can be paid together.
The speed of delivery in 10 foot containers is much higher than the combined cargo. Why? When delivering a consolidated cargo, especially for rare directions, the freight forwarder is interested in filling the container as much as possible, so that no "dead" space remains. Therefore, with a shortage of cargo, the forwarder will do everything possible to gain time and delay shipping as long as possible.
You can receive a rate for shipping in a 10-foot container simply by leaving a request, or by contacting our local office.
We will be glad to hear your recommendations and ideas for improving the service in our group, and also we invite you to subscribe to the channel, so as not to miss the most current news from the world of logistics.